New York City. Renowned for being one of the most expensive cities in the world. But that doesn't mean you can't experience some of the best attractions the Big Apple has to offer on a budget.
From the sprawling grounds of Central Park, to the iconic Brooklyn Bridge, visiting New York City on a budget can still be lots of fun!
Below, we've listed our top ten places to visit and things to do in New York that won't break the bank.
Ride the free Staten Island Ferry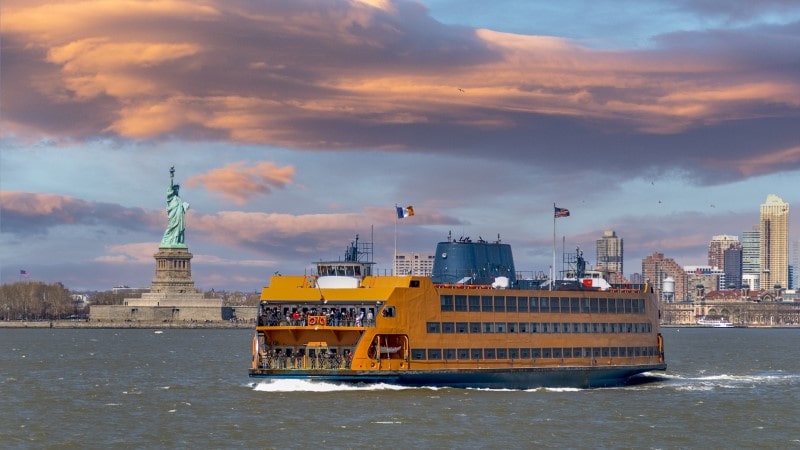 Everyone visiting New York dreams about seeing the iconic Statue of Liberty, but tickets to ride the ferry with the Statue Cruises tour provider cost upwards of $24 per person.
Thankfully, you can ride the free Staten Island Ferry without paying a penny! The ferry runs between the St. George Ferry Terminal in Staten Island and the Whitehall Ferry Terminal in Manhattan. It's also the most popular way of commuting for workers between the two islands.
While you won't actually be able to get off the boat at Liberty Island, you'll sail straight past Lady Liberty from an incredible view point on the water!
Watch a college basketball game at Madison Square Garden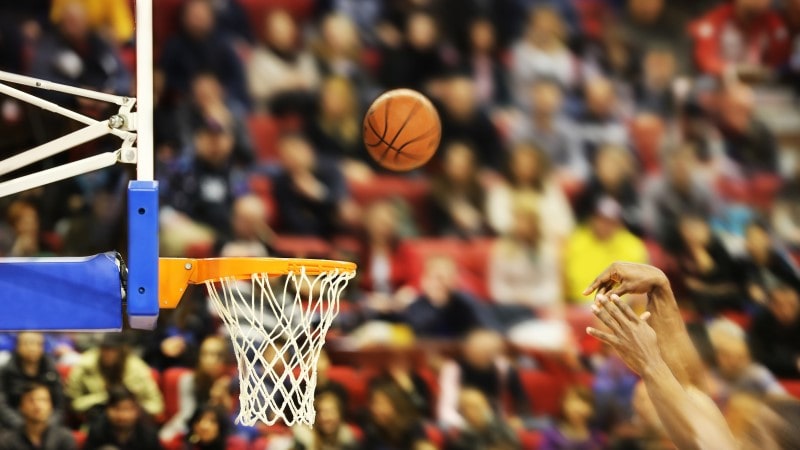 Tickets to watch the Knicks play at the famous Madison Square Garden often cost upwards of $100.
Instead, you can watch a college basketball game there for just $20 and still get that iconic Madison Square Garden experience, without paying a fortune. Pick up a pretzel from a street food vendor on your way into the stadium for as little as $2.
Walk the Brooklyn Bridge
Famous for being one of New York City's most defining structures, the Brooklyn Bridge is an incredible feat of architecture.
You can walk across the Brooklyn Bridge (free of charge of course) and it's one of the top tourist spots in the city for good reason!
From the bridge, you can see all across the Brooklyn and Manhattan skyline and you'll even spot the Statue of Liberty, One World Trade and the Empire State Building.
Top tip: walk across the bridge as early in the morning as possible to avoid the commuter rush hour.
Spend an afternoon in Central Park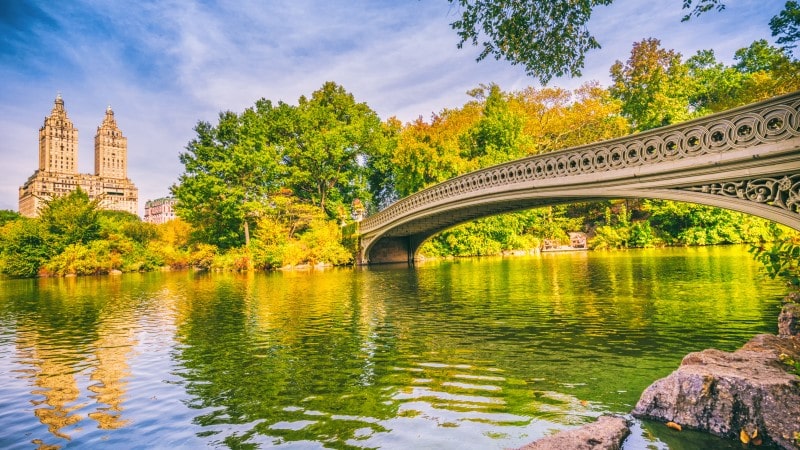 New York's most iconic park and one of the most famous parks in the entire world lives in the heart of Manhattan.
Central Park is the perfect place to hang out in New York if you're on a budget as you don't have to spend a penny to have an incredible time.
Stroll along The Mall, people-watch from the top of Bethesda Terrace and admire the beauty of Bow Bridge. If you do want to push the boat out with your budget, you can hire rowing boats from Loeb Boathouse from April to November for $20 an hour.
Enjoy the view from Time Out Market New York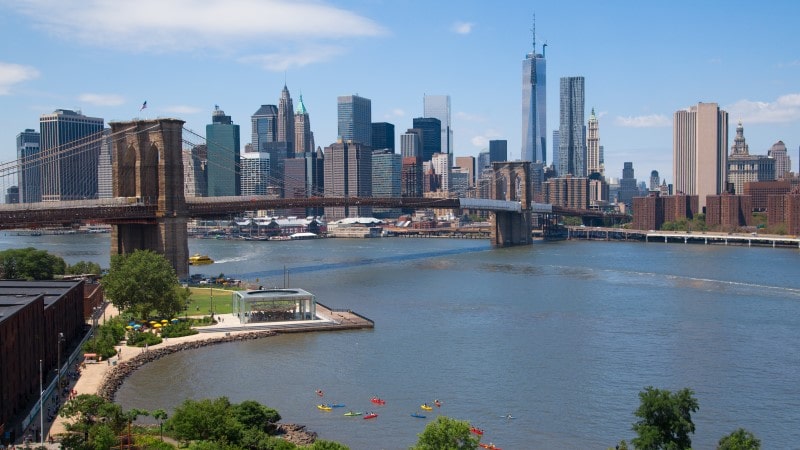 Despite the rooftop at Time Out Market New York only being located on the 5th floor, this is undoubtedly one of the best rooftop views in New York City. Best of all, you can soak in the views of the Brooklyn Bridge, Manhattan Bridge and the Manhattan skyline for free.

There are plenty of food and drink options at the Time Out Market, but you don't have to pay $12 a cocktail to enjoy the views here. Grab an "everything" bagel from Ess-a-Bagel in the food court downstairs from just $2 and take in the views from the rooftop.
Look out for free museum days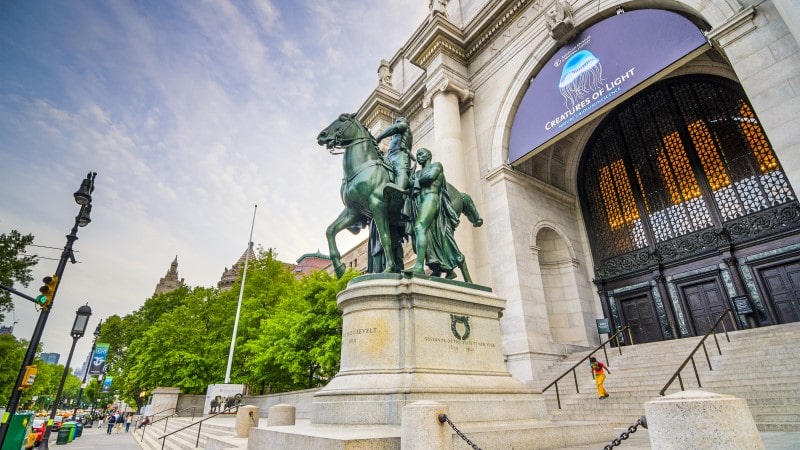 New York City is home to around 100 museums, including the MoMA, the National 9/11 Museum and the American Museum of Natural History.
Unless you're a resident of New York, you have to pay for entry to these museums which costs between $20 and $30 per person.
Thankfully, attractions such as the National 9/11 Museum offer free admission Mondays between 3:30pm and 5:00pm. Reservations are available every Monday from 7:00am, but you have to be quick to grab your spot if you want to visit for free!
Check out Grand Central Terminal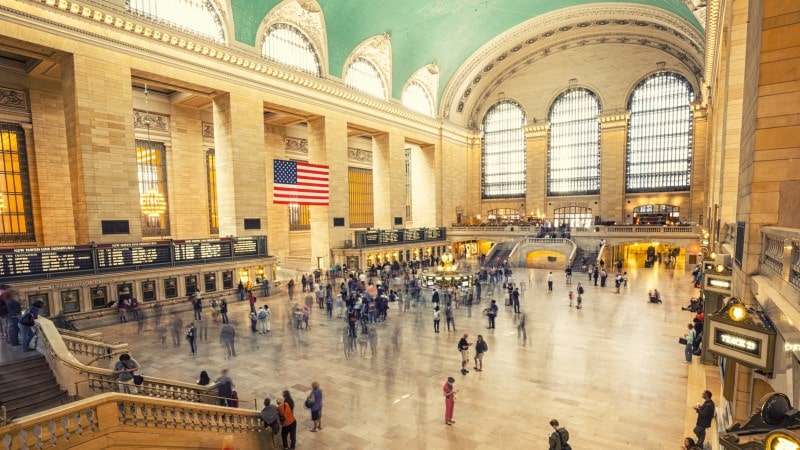 Famed for appearing in hit TV shows such as Gossip Girl and movies such as Friends with Benefits, Grand Central Terminal is a must-visit while in New York.
You don't have to be travelling anywhere to admire the stunning architecture at this famous train station and it's free to venture inside and have a look around.
Be sure to check out the breathtaking ceiling and head to the Whispering Gallery where you can talk to people in opposite corners of the room!
Explore the Little Island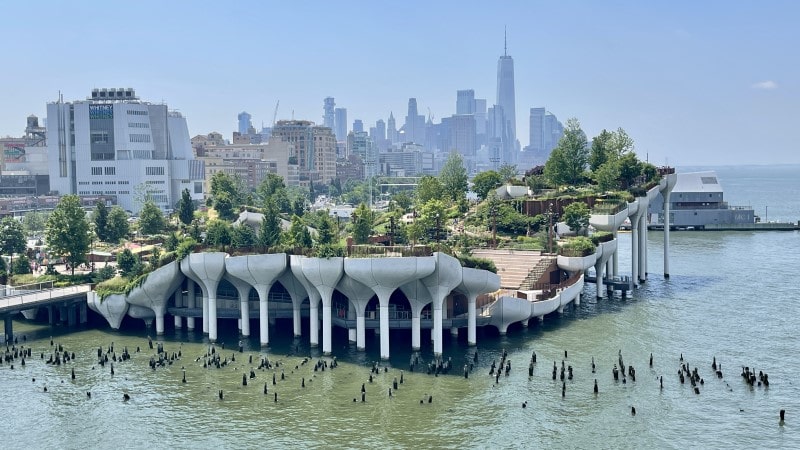 Located at Pier 55 on the Hudson River, the Little Island is an artificial island that's home to a gorgeous public park.
It's the perfect place to enjoy a picnic in the summer months, but you'll need to make a free timed-entry reservation between May and September as it's a very popular outdoor space in the city.
Walk the High Line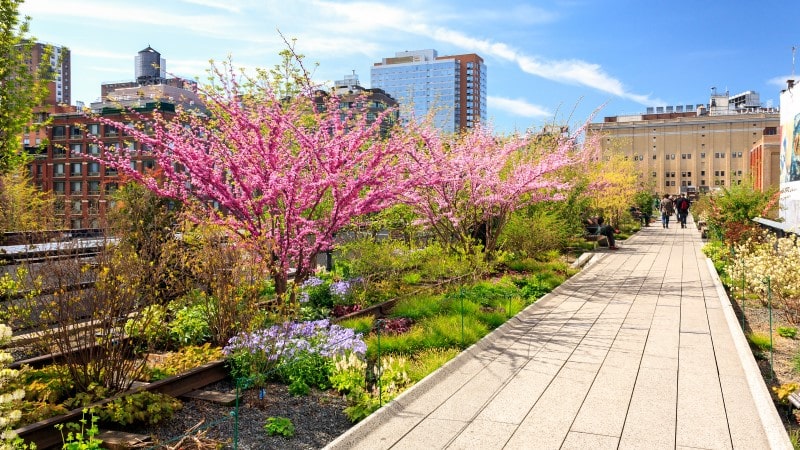 The High Line is a 1.45-mile-long track that sits on an old, abandoned railway line. It runs along part of the west side of Manhattan and it's a wonderful, free activity to enjoy in New York if you're looking to make your budget stretch elsewhere. You can enjoy views of Hudson Yards, The Vessel and Chelsea as you walk.
Top tip: stop by Chelsea Market along the High Line to pick up some delicious doughnuts from Doughnuttery. They're less than $1 each and you can get all kinds of flavours: salted caramel, apple and cinnamon and chocolate drizzle to name a few.
Ride the Roosevelt Island Tramway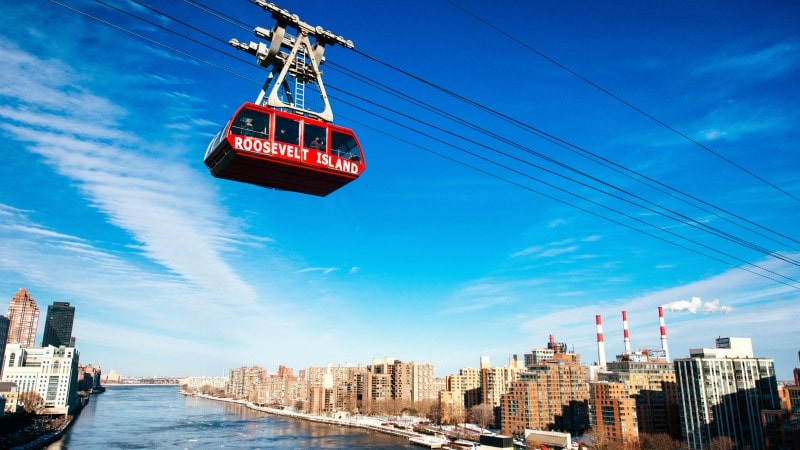 You can ride the Roosevelt Island Tramway for just $2.75 each way and it takes you from 59th Street and 2nd Ave in Manhattan to Roosevelt Island. It's only a 5-minute ride, but it's worth it for the views of the Manhattan skyline.
The tram travels at an elevation of 230 feet across the East River, offering breathtaking views as you cruise through the air.
Has New York caught your eye?
Tempted to visit New York City to try some of our top budget-friendly things to do?
Don't forget travel insurance to avoid any big surprises should something go wrong on your trip.
You may also like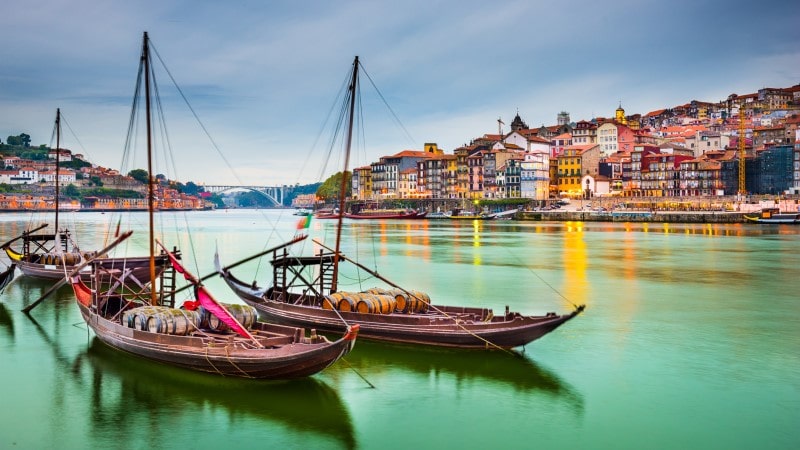 Budget travel | Destination guides
From cable cars to wine cellar tours, you'll be surprised at how much you can do in Porto on a budget. Find out more in this guide.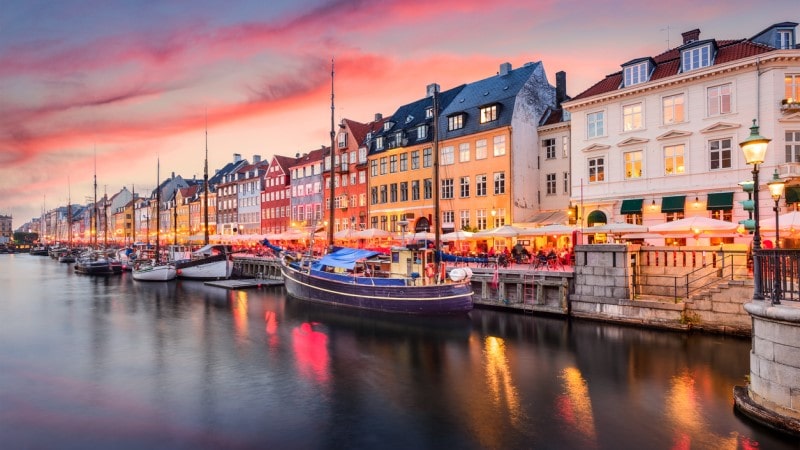 Budget travel | Destination guides
See Copenhagen on a budget with our travel guide. History, art, food, Vikings and more at a price that suits you.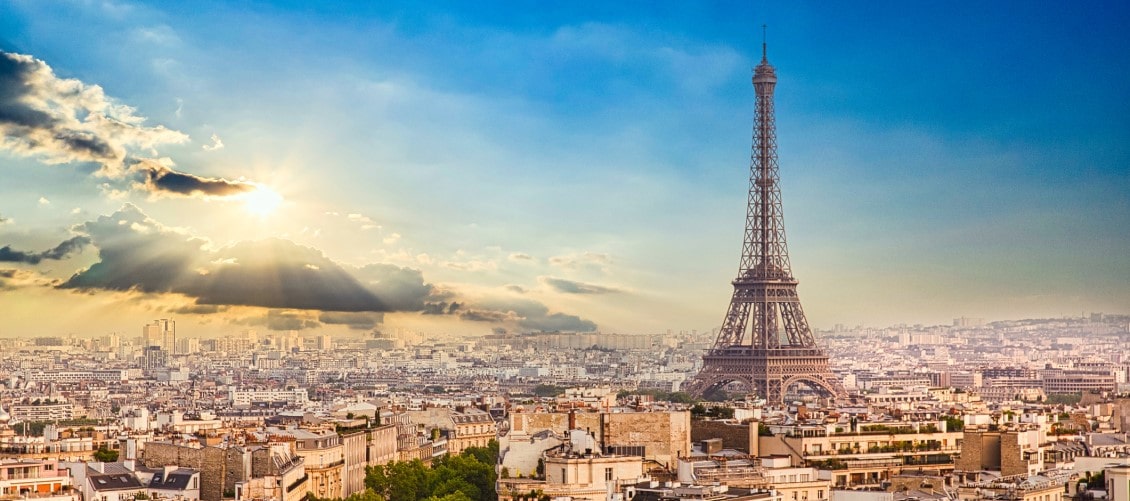 Budget travel | Destination guides
Make the most of your Parisian adventure with these 10 different ways to save money on your next trip.