With upscale hotels, boutique stores and gourmet restaurants, Paris can be a cultural yet expensive city to visit in Europe.
While it's a dream destination for many travellers, costs can soon mount up if you don't plan your trip properly and keep track of your spending.
If you're planning a trip to Paris on a budget, there are plenty of ways to make your visit affordable without missing out on the city of lights' charm and allure.
From free events and affordable dining choices to low-cost attractions and insider secrets, we'll provide practical advice and recommendations to help you make the most of your Parisian adventure.
Visit Musée d'Orsay for free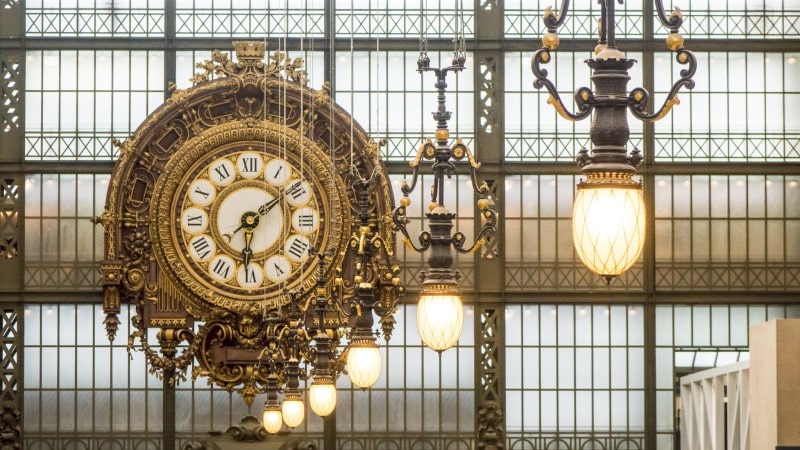 Affordable culture is closer than you think in Paris with many museums and galleries offering free entry once a month.
On the first Sunday of the month, the landmark Musée d'Orsay is free to visit, so long as you reserve tickets online.
Housed inside the historic Gare d'Orsay railway station, the museum is a fine example of Beaux-Arts architecture, with a large central nave with a glass roof that allows natural light to illuminate their diverse art collection – which includes Van Gogh's Starry Night.
Wander the thematic galleries and enjoy a sublime collection of French art and masterpieces including Monet, Manet, Pissarro, Morisot, and Renoir without spending a Euro.
Feast on freshly cooked crepes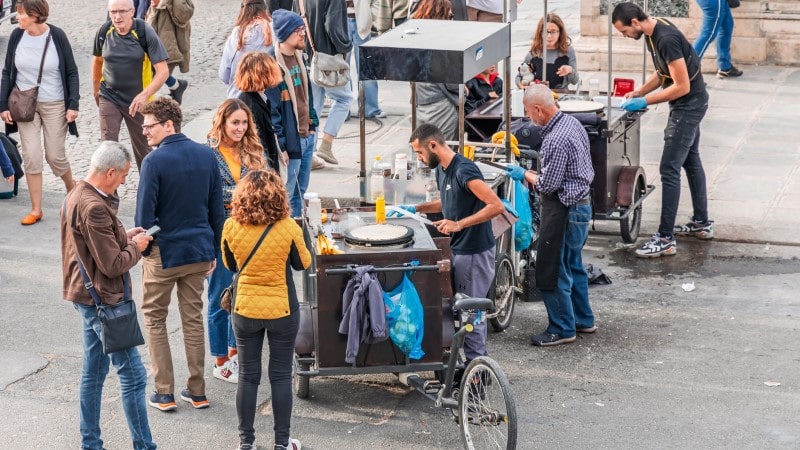 Freshly cooked French crêpes are a low-cost lunch on the go in Paris, with numerous crêperies scattered throughout the city, serving crispy crepes off a sizzling griddle for around €4-7 if you take it away.
These portable pancakes are skilfully cooked-to-order in a circular shape and are usually made from wheat flour, eggs, milk and salt. They are then packed with a variety of sweet or savoury fillings, including Nutella, whipped cream, bananas, cheese, ham and mushrooms.
Crêperie Genia – Vente à emporter – located on 7 rue de la Harpe is one of the best cheap eats in Paris with crispy crêpes and filled paninis to take away for just a few euros.
Bike along the Seine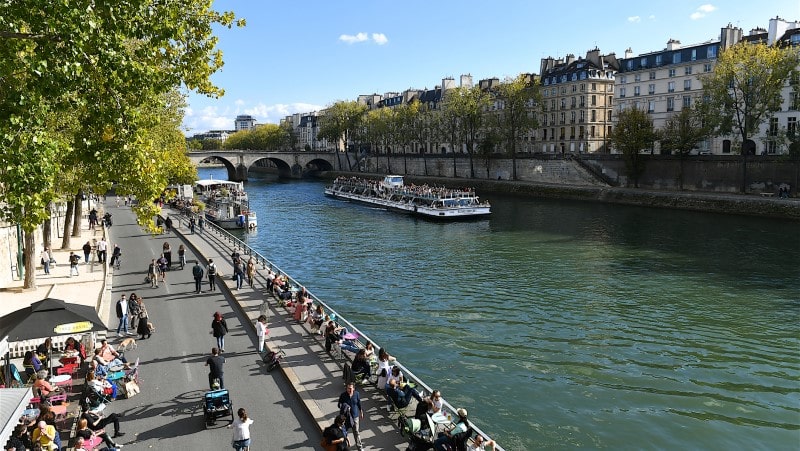 Paris is one of the most bike-friendly cities to visit in Europe with big ambitions to become a 100% cyclable city. Pro-cycling measures include a huge increase in the number of protected cycleways in the city, bike cafes and cycle parking spaces.
As well as being environmentally friendly, exploring Paris by bike is a cost-effective way to see the city, with many top tourist sites located near bike lines.
The Georges Pompidou, is a popular bike lane that runs along the banks of the Seine, offering views of iconic Parisian landmarks such as the Eiffel Tower, Notre Dame Cathedral, and the Louvre Museum.
Visitors can hire a bike for just €5 for 24 hours from Vélib' Métropole – a large-scale public bicycle-sharing system in Paris that now includes e-bikes.
Shop at Paris flea markets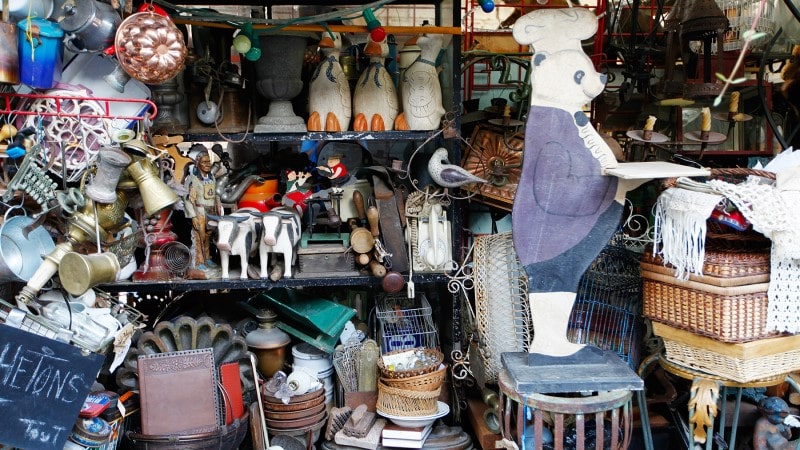 While Paris is known for its high-end fashion and luxury boutiques, there are plenty of affordable shopping options and vintage finds when you check out the eclectic flea markets.
Marché aux Puces de Saint-Ouen is one of the most-loved markets and is where locals come to bag a bargain.
Located on the northern edge of Paris, this chic market is a maze of narrow alleys and winding streets packed with shops, stalls, and stands that are overflowing with bric-à-brac
clothes and antiques.
The market is so large that it's divided into sections including Vernaison Market, Dauphine Market, and Malik Market, each having its own distinctive style and even live entertainment.
Vernaison Market is known for its diverse range of antiques, vintage furniture, and decorative items, while Dauphine Market is known for its higher-end antique and design items. Malik Market is known for its affordable, eclectic mix of vintage and second-hand items.

Wander around the free Musée de la Sculpture en Plein Air
One of the best free things in Paris for art lovers is the outdoor sculpture garden and museum – Musée de la Sculpture, that's located on the banks of the Seine in the 5th arrondissement.
Here, you can admire contemporary sculpture in a natural environment with an assortment of late-20th-century unfenced pieces by renowned artists such as César Baldaccini and Jean Dubuffet.
Why not pack a selection of French cheeses, fruits and crusty bread from the food market at Rue Mouffetard and have a Parisian-style picnic surrounded by impressive artwork?
Enjoy classic French food for under €10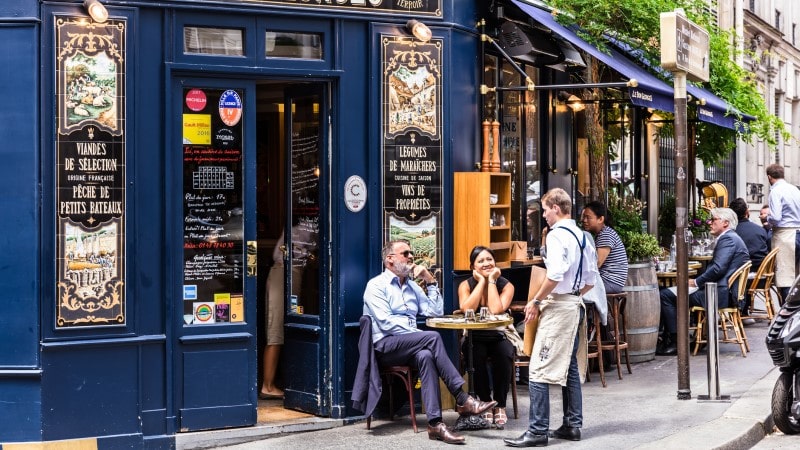 While dining in Paris can be a pricey endeavour, you can save money on eating out by having a large lunch and taking advantage of fixed-price menus, (menu du jour) and cheaper prices – especially when you dine away from tourist hotspots.
By opting for a lunch menu, you can feast on classic French cuisine including Croque-Monsieur, Cassoulet and Bouillabaisse, for as little as 8 or 10 Euros. House wine can also be bought for around €3-4 a glass if you fancy a midday tipple.
Head to Affordable Bistrot Victoires for a reasonably priced lunch, this vintage gem on Rue de la Vrillière serves pan-seared steak frites for under €13 and giant salads for €11.
Go on a free walking tour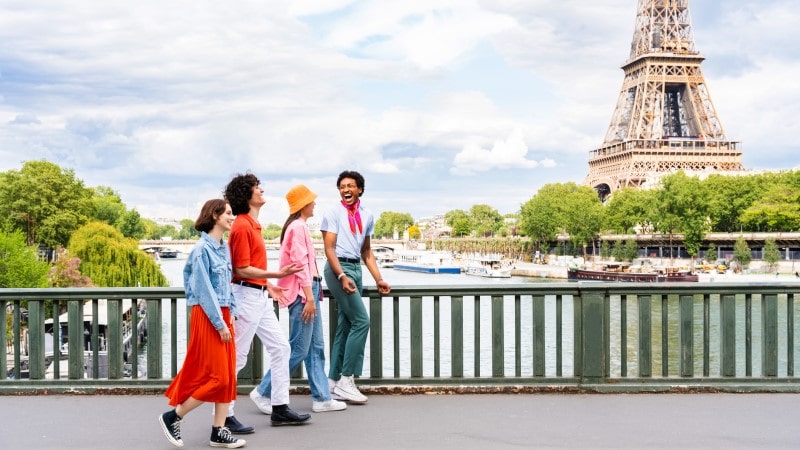 Book a free walking tour and experience a budget-friendly way to explore Paris with a local. Free tours are typically led by local guides who provide insider tips, stories and historical information about their city.
Paris free walking tours operate on a "pay-what-you-want" or "tip-based" system, where you can choose to give a donation or tip to the guide at the end of the tour based on what you feel the tour was worth, making it an affordable option for travellers on a budget.
SANDEMANs NEW Europe; Paris tour is one of the most popular free walking tours in the city. Their 3-hour Paris free walking tour shows you many of the best attractions in Paris including Notre Dame de Paris, the Louvre, and the impressive Parc des Tuileries.
You'll also get to hear the stories behind the landmarks and have plenty of opportunities to take lots of photos. Instagram or it didn't happen, right?
Discover street art at Canal Saint Martin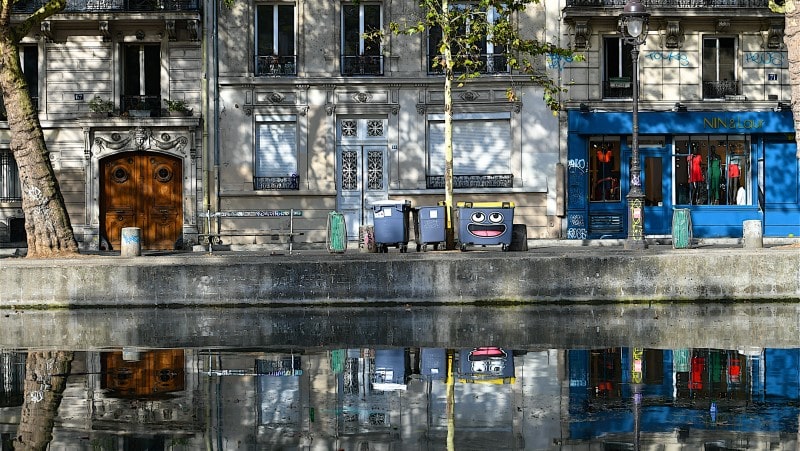 The Canal Saint-Martin neighbourhood in Paris is known for its vibrant street art scene and achingly hip coffee shops, thrift shops and restaurants, packed with chic Parisians.
Located in the 10th and 11th arrondissements, this boho area has become a hotspot for street artists to express their creativity and leave their mark on the historic city walls.
Grab a cheap takeaway coffee from funky coffee shop Le Look and wander around to find colourful murals and large-scale graffiti pieces.
One of the most famous street art spots in Canal Saint-Martin is the Rue de la Grange aux Belles, which is known for its colourful murals and stencil art.
Check out free cultural events and concerts in Paris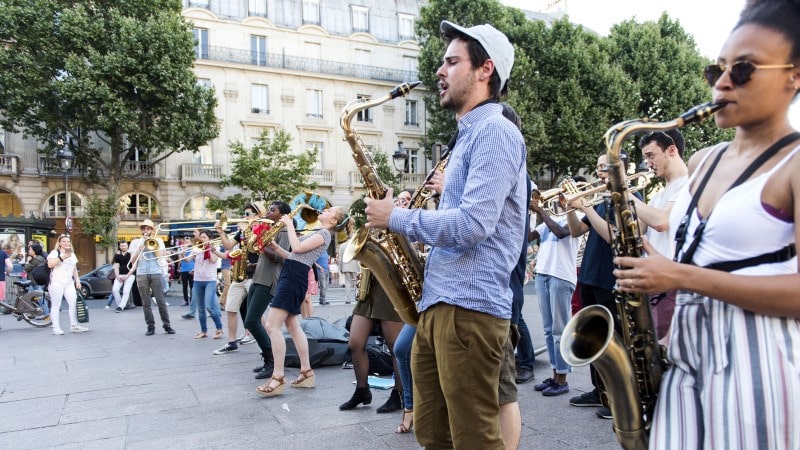 Paris has a wide range of free Concerts, festivals, outdoor film screenings and cultural events throughout the year that visitors can take advantage of year-round.
Spring and summer feature a range of free cultural events in Paris, check out Le Printemps des rues, a festival held in May devoted to street entertainment that includes free circus arts, dance and theatre performances.
On 21 June, the streets come alive with the sound of music as both amateur and professional musicians take over public spaces during the Fête de la musique. Expect stages to spring up with live bands, singers, amateur musicians, drummers, DJ all performing for free.
From mid-July to the end of August, you can bask on the banks of the Seine on artificial beaches that are installed alongside the river and the Bassin de la the Villette during Paris Plages.
Free sun loungers, palm trees, entertainment, open-air movies and swimming, set the scene for a sizzling summer in the city that won't break the bank.
Plan your trip in advance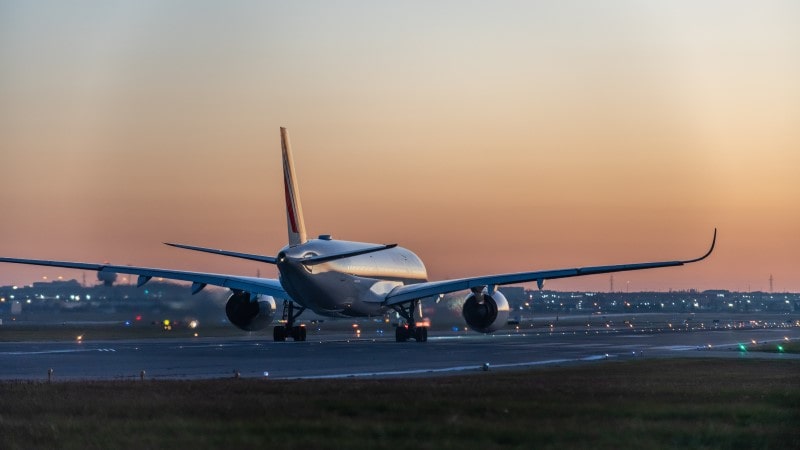 Last-minute trips to the city of lights are notoriously expensive and your travel budget is likely to take a huge hit. Usually, one of the best ways to save money on your trip to Paris is to plan ahead and book your flights and accommodation in advance.
Airline prices can have dramatic variations, especially around the peak season and big holidays such as Christmas and Easter.
If you don't have set travel dates, you can take advantage of cheaper flights to Paris by using tools like Skyscanner and Google Flights to look at a wide range of flight dates and times.
To find affordable hotels in Paris and special deals, use a hotel or travel comparison site to see an aggregated list of hotels and filter by lowest price. For many sites, like Expedia and Kayak, you can set up price alerts for your search query to get an alert if prices go up or down.
If you're flexible with your travel dates, you can often save money by booking a mid-week hotel stay.
Many hotels now offer free cancellation (up to a certain date) and some have date change options, providing greater flexibility for travellers on a budget. Sites like Booking.com also have certain filters that allow you to search for hotels in Paris that offer 'free cancellation'.
Don't forget to also get travel insurance for your Paris trip for your peace of mind. Travel plans can change unexpectedly, so you want to make sure you're covered for a range of eventualities.
You may also like

Budget travel | Destination guides
Want to enjoy all Tenerife has to offer, without the bustling tourist hotspots? We think you should head up north. Here's why...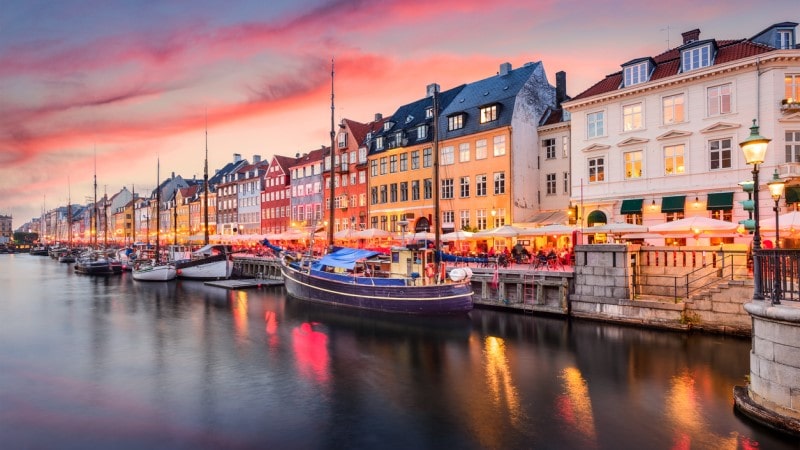 Budget travel | Destination guides
See Copenhagen on a budget with our travel guide. History, art, food, Vikings and more at a price that suits you.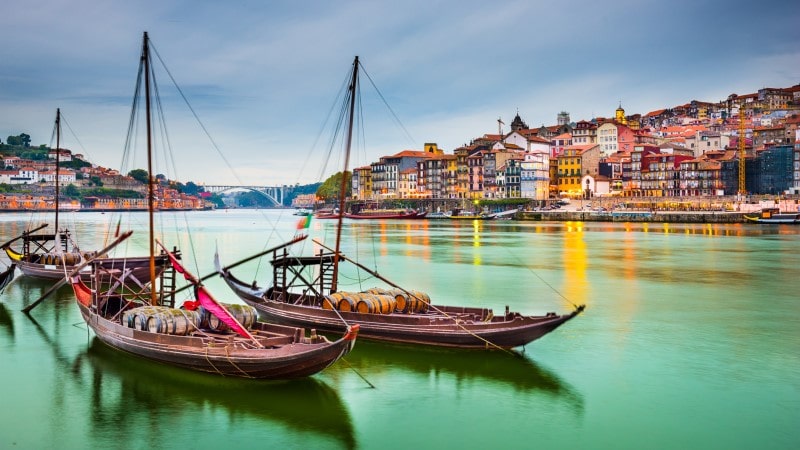 Budget travel | Destination guides
From cable cars to wine cellar tours, you'll be surprised at how much you can do in Porto on a budget. Find out more in this guide.